Turkey's Lycian Way runs along the South-Aegean coast, between the touristic hotspots of Fethiye and Antalya. It is the country's oldest long-distance trail, created in 1999 by the British expat Kate Clow. Since then, this 540 kilometre (335 mile) long trail has led countless walkers along the ancient ruins, tombs, pathways and port towns of this unique part of Turkey.
So for those of you willing to tackle its steep hills and rocky goat tracks, here is my practical guide to the Lycian Way!
Level of difficulty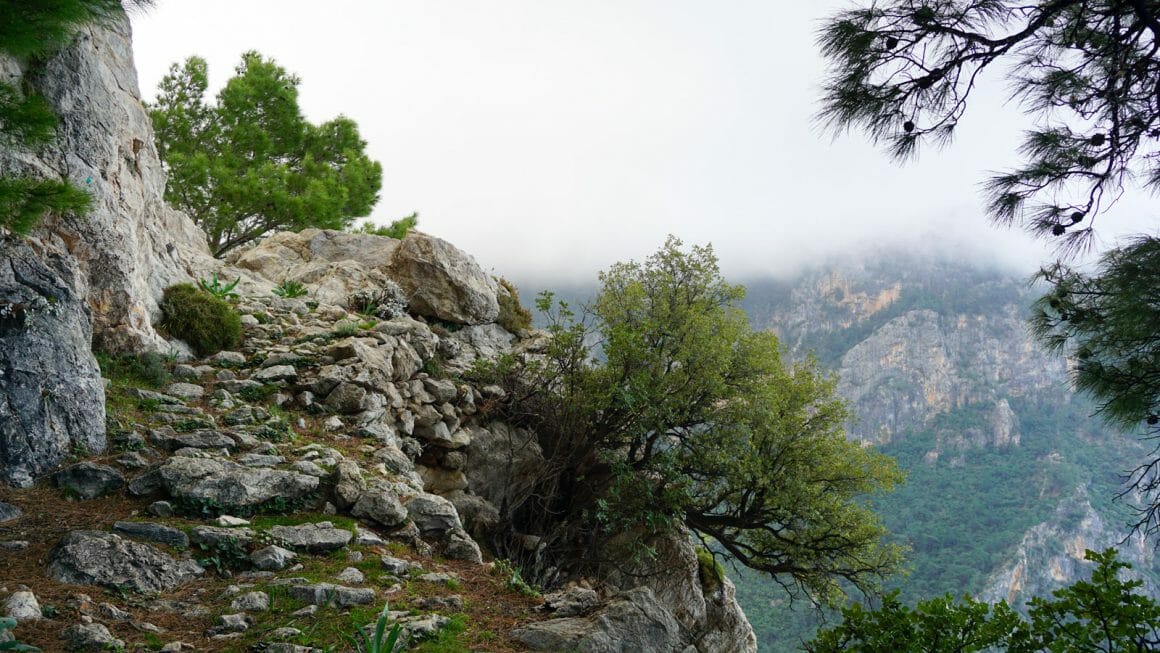 The Lycian Way is a long-distance trail that can be quite demanding with a large backpack. The easiest way of beating this trail would be to arrange for accommodation every night, and only carry what you need to make it to your next hotel or pansiyon. While it would be possible to walk most sections of the trail in this fashion, those of you planning on walking the entire trail will have to carry a tent and sleeping gear, as there are quite a few stretches that feature no accommodation whatsoever. The level of difficulty therefore depends on your personal level of fitness and the weight you'll be carrying.
The Lycian Way consists of a collection of ancient footways and goat tracks, leading walkers up and down the coastal hills of the Lycian peninsula. Most of these paths are very rocky, strewn with loose stones that create difficult footing at times. More experienced hikers will have no trouble here, but this will demand a lot of effort for those with less experience.
There are a lot of steep inclines along the route, varying from steep rockslides to near-vertical scrambling sections. Again, the difficulty here will depend on your carried weight and level of fitness. Although I can guarantee the latter being no problem after spending a few weeks on this trail!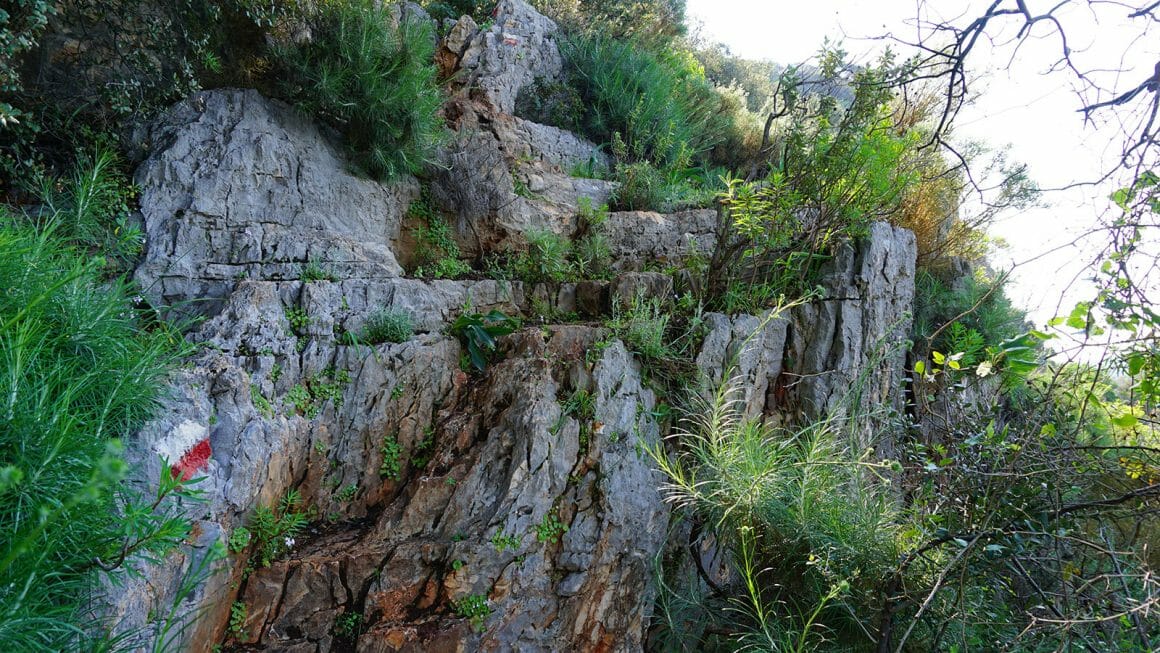 Another matter to take into consideration is the season in which you're planning to walk. I walked this trail in Februari and March, when the weather was a pleasant 20 degrees Celsius (68 Fahrenheit) when the sun was out, chilly when it was not and downright freezing when camping at altitude.
In summer, temperatures can prove to be a challenge on their own as they often rise to 30-35 degrees Celsius (86-95 Fahrenheit). This is why the most popular months to walk the Lycian Way are April-June and September-November.
Food, Water and supplies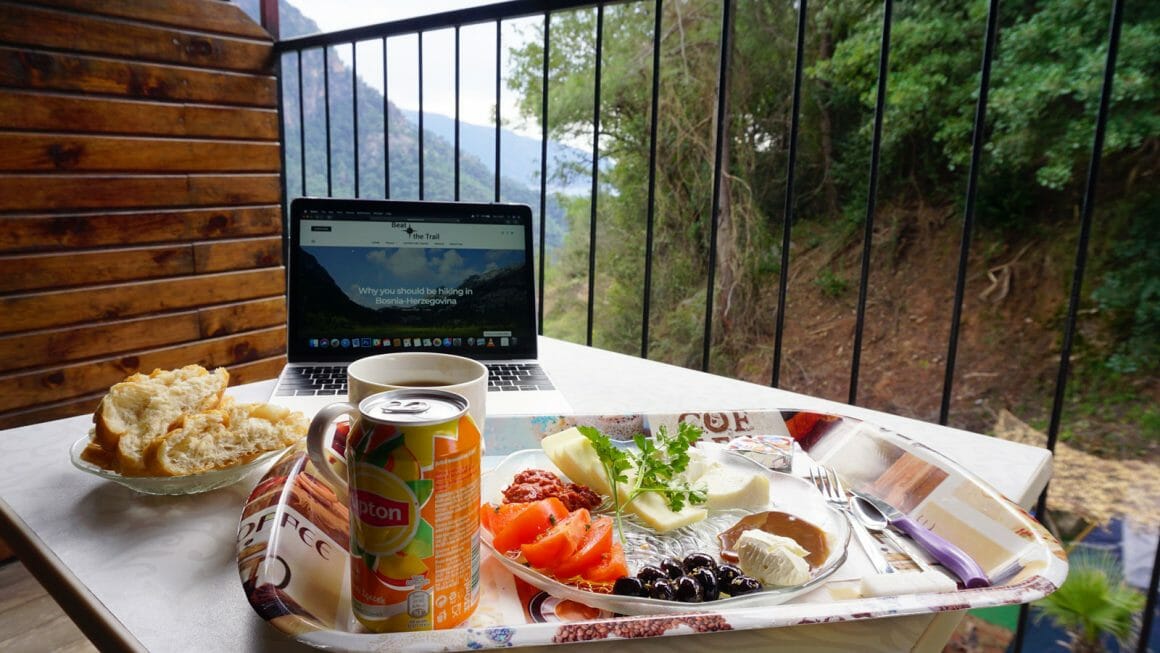 As stated above, the weight you carry strongly impacts the difficulty of this trail. Carrying many day's worth of food is therefore not a good idea. Fortunately, there are daily options to shop for supplies or buy fruit, bread and cheese from locals. There are a few sections that lead through more remote areas, but will have you pack food for three days at most.
Freeze-dried instant hiking meals or prepackaged meals are hard to come by in Turkey. If you're planning to rely on these, I suggest sending ahead parcels beforehand to one of the countless hotels along the way. Tell them in what week you expect to arrive and spend a night there and most will be more than willing to hold your parcel for you, especially in the quiet winter season!
Water can be a problem along the Lycian Way, depending on the season. In summer, most natural springs and wells will be dry. In winter more will be available, while in spring the melting snows will supply most of these with fresh water. However, I recommend buying bottled water wherever you can. Bottled water comes in many sizes, with the smaller bottles costing more per litre than the most commonly bought 1,5 litre bottles. Bottled water is available almost everywhere and is almost always really cheap, priced around 1-3 Turkish Lira per litre.
Medical supplies are also widely available at pharmacies in the larger towns and cities. You can find camping gear and supplies in the larger cities, but don't expect much speciality gear.
Accommodation on the Lycian Way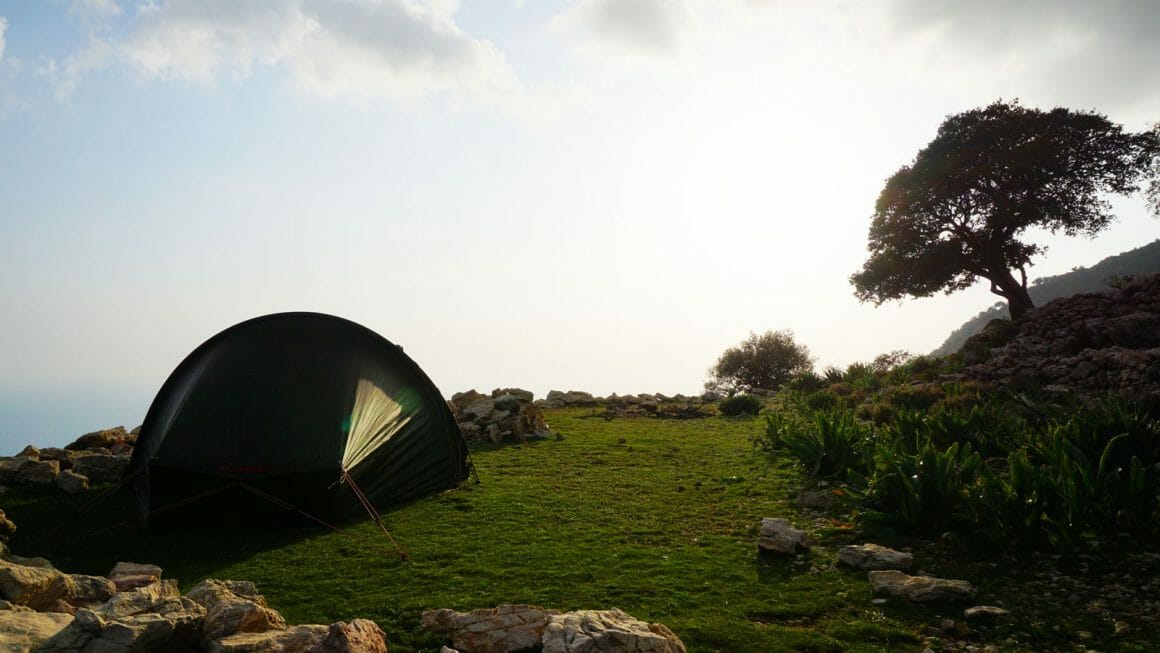 In my opinion, carrying a tent or warm bivy bag will save you a lot of trouble. Like I said before, not all sections of the Lycian Way are covered by paid accommodation and those of you planning on walking the entire trail will sooner or later have to camp somewhere. Try to keep it lightweight, and you should have no trouble lugging your camping gear up and down the steep Lycian slopes.
The numerous villages, towns and cities along this trail have been benefitting enormously since the Lycian Way's creation in 1999. As a result, even the smallest villages often have a family-run pansiyon or a little hostel to cater to the many walkers throughout the year. Not all will be open all year though. In winter you can expect most accommodations to be either closed or empty with no reservations necessary. In summer most will be booked, so making reservations will be necessary.
Maps and other resources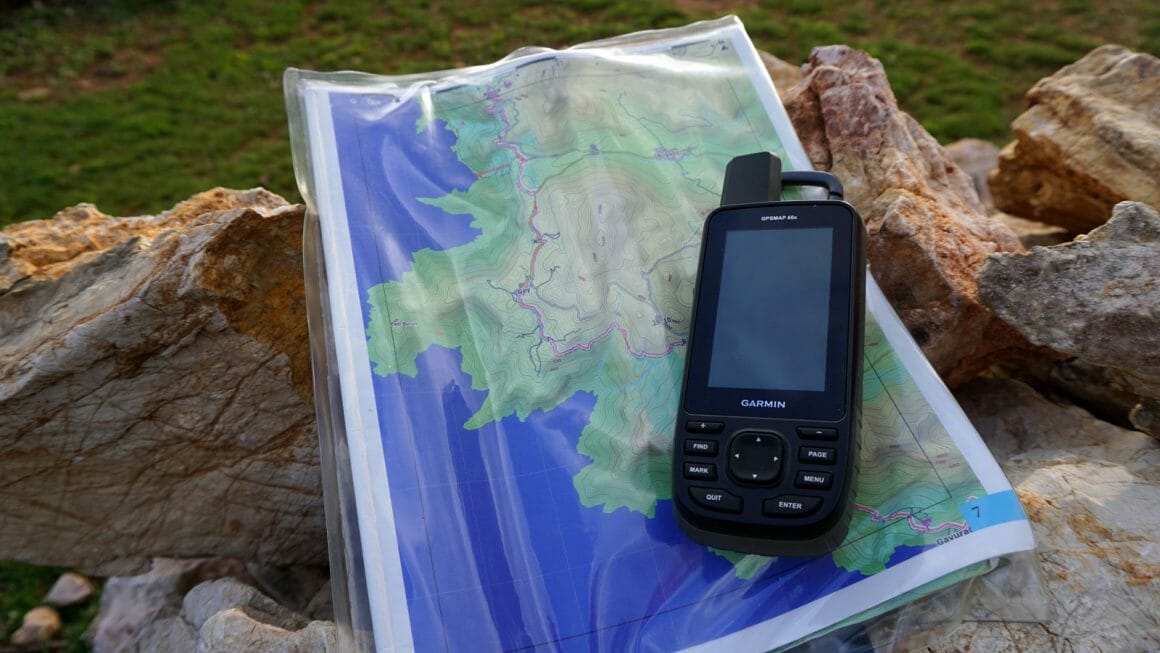 I used a lesser-known paperback map book (ISBN 1546512071) published by an unknown author. This book shows water sources, wild camping spots and most types of facilities and accommodations along the trail, but the route it shows is outdated. Therefore books like these are not recommended by the Culture Routes Society, the NGO maintaining, promoting and creating trails in Turkey including the Lycian Way.
As the trail's founder, Kate Clow wrote what is considered the guidebook on the Lycian Way. Mostly intended as a source of background information, it is best used with the official smartphone-app. The app, guidebook and paper maps are available from the Culture Routes Society's website.
For those of you with a (Garmin) GPS device I recommend downloading a detailed map of Turkey over at OpenTopoMap.org. These maps are excellent resources for anyone travelling through Europe, and come with a separate layer of contour lines, as well!
Getting there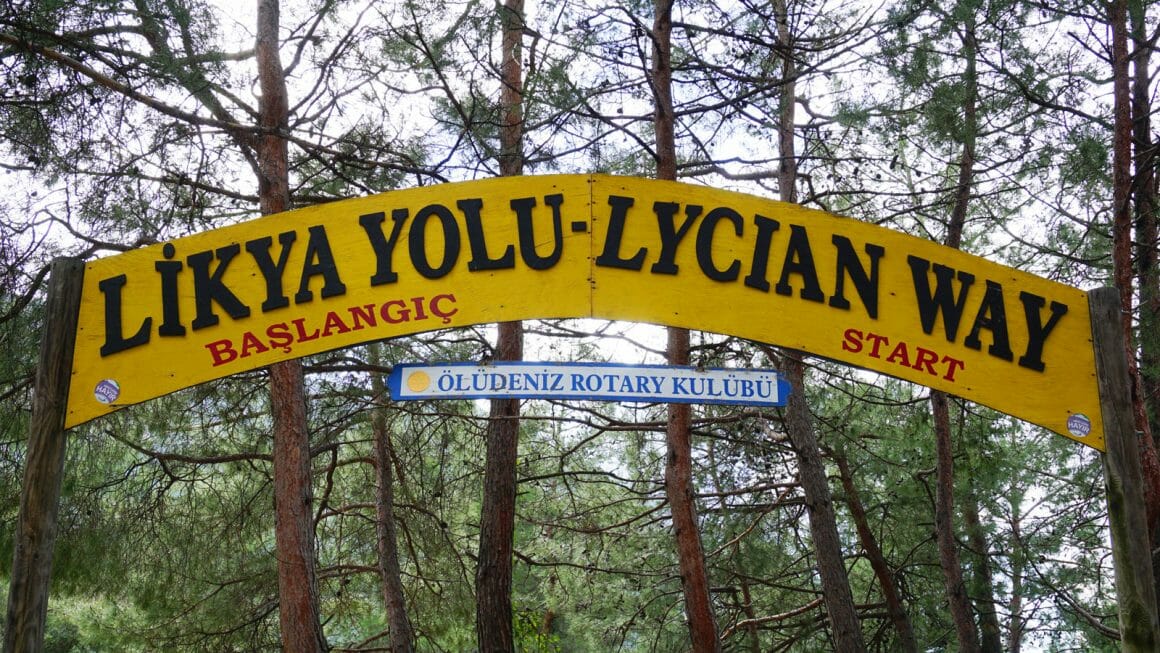 The official start of the trail starts somewhere in the hills above Ölüdeniz, near Fethiye and is marked by a large yellow archway. It is also possible to pick up the trail from Fethiye, though. Follow the road leading south out of town into the hills towards Kayaköy. After passing the castle ruins on the edge of town, turn left along the main road. After roughly 500 metres (540 yards) you'll see an signpost on the left side of the road marking the (unofficial) start of the trail.
Currently the trail ends somewhere east of Geyikbayırı, near Antalya. There is an extension planned however, which will connect the Lycian Way to the start of the St. Paul Trail just north of Antalya. For more information I suggest you keep an eye on the Lycian Way's official website.
Getting to Fethiye is easiest by flying from Istanbul to nearby Dalaman. From there you can take regular buses to Fethiye. Should you wish to start at the official starting point, then you can take regular buses to Ölüdeniz, or have a taxi drop you off at the trailhead.
Should you wish to walk the Lycian Way from east to west, then I suggest flying on one of the numerous domestic and international flights to Antalya. From there you can take a bus to Geyikbayırı.
Gear List
As it cannot be omitted from any hiking guide, here's a list of must-have gear on the Lycian Way!
I will list only what I consider to be the essentials here; I'll leave it up to you how much extra gear you want to bring.
Sturdy hiking boots. Solid hiking boots are recommended, as most of the trail consists of rocky, uneven goat tracks.
Good, sturdy backpack. The fewer items you bring, the smaller your pack can be. Just make sure to leave enough room for food supplies!
Lightweight tent(when camping). For those parts of the Lycian Way that do not have accommodation options for every night.
Season-appropriate sleeping gear(when camping). A sleeping bag and whatever item you prefer to sleep on. Just make sure to prepare for the season's nighttime temperatures!
Season-appropriate clothing. Light and fast-drying in summer, nice and warm in winter!
Cooking gear and fuel(when camping). Unless you plan on eating cold rations for four weeks, bring something to heat up your food or make tea with!
Water reservoir or water bottle. Either get a lightweight water reservoir for your backpack, or two large drinking bottles of at least one litre (33 oz) each. Water can be an issue along this trail, so bring enough! I always bring a lightweight water filter for those occasions where I can't trust the water quality.
Map, app or GPS (and navigational skills). The trail isn't always clearly marked. A map, GPS or the official Lycian Way app can save you some backtracking!
Medkit and basic first-aid skills. As with any multi-day hike, a certain degree of self-reliance is always a good thing. Make sure you bring something to send out emergency signals with as well, just in case.
Sunscreen. The sun burns hot in southern Turkey!
Swiss army knife or multitool. Don't leave home without it.
A (phone)camera. It would almost be a crime to not make pictures of the beauty of this trail!
---
Getting your hiking gear assembled can get expensive. Perhaps my tips on how to save money on hiking equipment can help you get started?
---
The Cost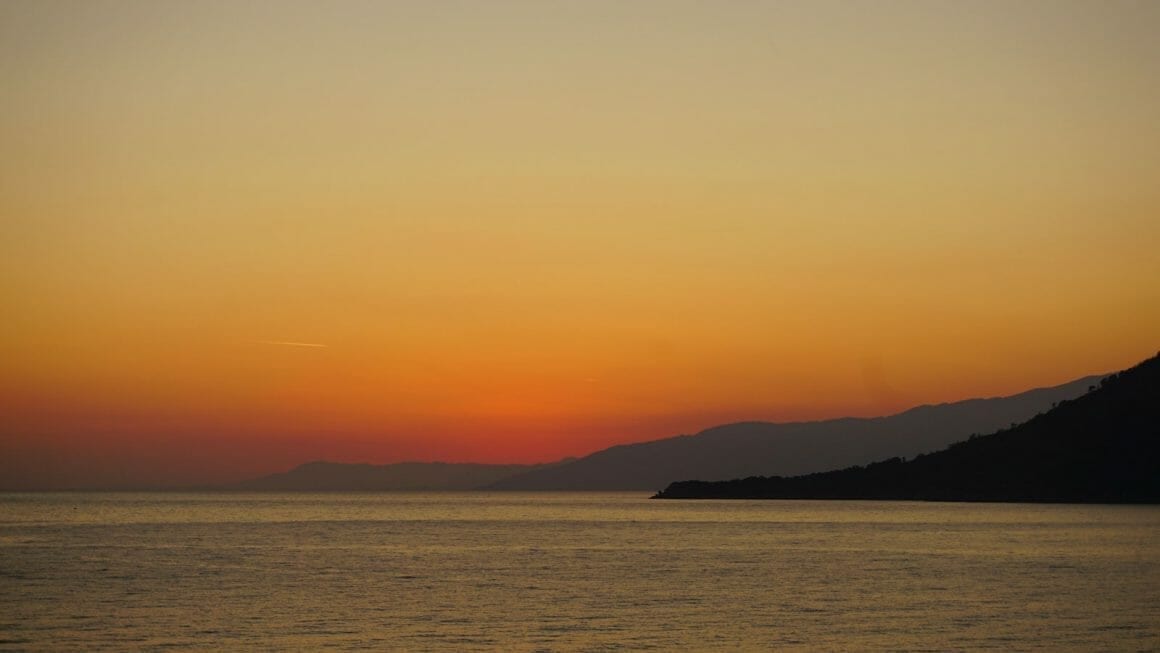 Travelling in Turkey isn't a very expensive experience for most travellers. Basic supplies like bread, cheese and water are really cheap. A loaf of bread will cost you 1-2 lira, a block of local cheese usually no more than 15 lira. Meat is of course a little more expensive, and a beer will cost you the most, as Turkey has high tax rates on alcohol. As it is in most places, sticking to the basics will save you money!
---
Planning to walk the Lycian Way on a budget?
Check out my 10 tips for a cheap hiking trip!
---
While camping will always be the cheapest option, commercial campsites are not very common, but usually cost you between 30-50 lira for a night. Finding a good wild camping spot can prove a challenge in the rocky, steep hills of the Lycian peninsula, as most of the flat land is either fenced, developed, built on or otherwise occupied.
Luckily, accommodation is really cheap, with private rooms going for as little as 60-100 lira in winter. Expect prices to rise by at least 25% in summer. Most pansiyons and hotels don't offer dorm rooms, as the Turks are still quite unfamiliar with the concept of a backpacker hostel. When you do manage to find a hostel, dorm beds often prove around 60 lira. Sticking to private rooms will cost you just as much in most places!
Transportation is cheap, with regular domestic flights to Antalya going for as little as 140-200 lira. Buses are cheapest, but expect long, shaky night rides for most longer distances. A bus ticket from Istanbul or Ankara to Antalya will set you back around 100 lira.
And that's it for my guide to the Lycian Way! For more information, check the website of the Culture Routes Society, or leave your questions in the comments below!
See you on the Trail!